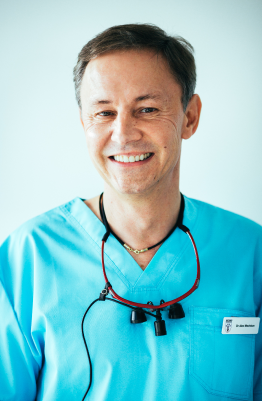 DR. Alex Mechkov
BDS Dental Surgeon + BSC, Dip. Dent technology
Owner of the Marina Dentists clinics and principal dentist
Member of the New Zealand Academy of Cosmetic Dentistry
Member of the New Zealand Dental Association
COMPETENCE

advanced-cosmetic-dentistry

digital-dentistry

endodontics

implantology

oral-surgery
35 YEARS OF PRACTICE
EXPERIENCE
Alexei Mechkov (@doctor_mech) – a dentist with 35 years of experience.He has extensive experience in the diagnosis and planning of treatment using traditional
and all modern additional techniques, such as digital cosmetic dentistry.
And therefore any dental treatment or patient can be assessed by Alex
for the best dental advice forward.
He can fit dental implants and remove impacted wisdom teeth without
requiring a general anaesthetic, something that can only be achieved
through our commitment to most up to date methods.
Of course – having the best equipment is only half the story, but Alex is committed by putting even the most anxious patient at ease. He is very professional and relaxed to ensure you're comfortable at all stages of
any procedure.
Alex specialises in dental implantology, and cosmetic rehabilitation.
He enjoys general dentistry but has a special interest in Aesthetic
dentistry, endodontics, implantology and prosthodontics.
Alex was raised in the city of Novosibirsk, which is one of the largest centers
for the development of science and education in Russia. He graduated from Novosibirsk Medical University in 1986, followed by a postgraduate degree at
the Department of Surgical Dentistry where he was engaged in maxillofacial surgery under the supervision of professor Pavel Sysolyatin. Specialization – osteosynthesis of lower jaw fractures with shape memory devices. At the
same he was involved in educational process and was a popular tutor within students .
During this period, 2 patents (1 patent, 2 patent) for copyright inventions were obtained.
Alex went on to work as the head of the prosthetic department
at Novosibirsk public Hospital for 12 years.
Alex decided to move to New Zealand more than 24 years ago.
Here he graduated from the Central Institute of Technology.
He worked in various dental practices in Wellington and Auckland before
start his own practice in 2009. What started as a one-man practice turned
into two well-equipped dental clinics in a beautiful Half Moon Bay marina
and Pine Harbour marina near Beachlands and Maraetai as its stands today.
Instagram page @doctor_mech
EDUCATION
1998-2000
- Central institutions of technology, Dental technology department.
1988 - 1991
- Postgraduate study at the Department of Maxillo-facial Surgery, Novosibirsk State Medical University.
1986 - 1988
- Clinical ordinatura, Oral Surgeon.
1986
- graduated Novosibirsk State Medical University, Bachelor of Dental Science
ADDITIONAL EDUCATION
2019
- Invisalign Go Training program, Auckland.
2017
- Dento-Facial Botulinum Toxin and dermal filler for Dentists "Fundamental", Auckland
2017
- Intermediate Practical Course in implant Dentistry organised by Global Academy of Osseointergration (GAO) in Seoul, Korea
2017
- Practical course in implant dentistry, theory + workshop Hands-on course by dr Dennis Smiler, Peter Shatz, Jongyub Kim and Chonghwa Kim, Seoul Korea
2016
- Reaching the Standarts of Modern Endodontics, Auckland
2014
- Clinical Techniques for Successful Dentures by dr Frank Zimmerling, Auckland
2014
- Advanced Endo and Reciproc workshop, Auckland
2011
- Dysport Dental Advanced training by Jocelyn Logan, Auckland
2010
-Training course on the use of the dental chair side delivery E4D, Auckland
HOBBY
Alex is married, has two grown children, and in his spare time he enjoys ice-hockey and skiing.
DENTISTRY, WHICH IS A PLEASURE TO RETURN TO
Marina Dentists ltd
Opening hours:
Mon-Fri: 8.00am – 6.00pm
Sat: 9.00am – 2.00pm
Pine Harbour Marina

Ranger House, 190 Jack Lachlan Drive